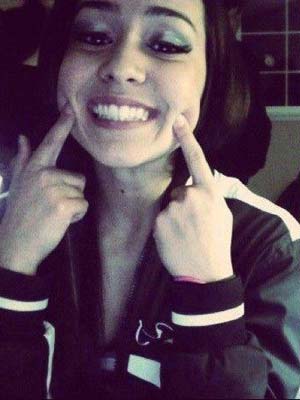 While Morgan Hill teenager Sierra LaMar
remains missing
for now two months, there appear to be very few definitive clues in the investigation. Aside from continued water searches and analysis of crime lab evidence, her loved ones are continuing to spread awareness about her throughout the community in which she lived. One person in particular is her cousin Keith LaMar, who lives in the Sacramento area. Keith has been doing what he can to help in finding Sierra by appearing on local network news airings. He also pays close attention to online news about her, while sharing what he can via social networking sites like Facebook and Twitter. Keith LaMar was kind enough to answer some questions regarding the disappearance of Sierra LaMar, with whom he is a paternal cousin. He even had some heartfelt, albeit harsh, words for whomever is responsible for the girl's disappearance:
The following is the interview between Chelsea Hoffman and Keith LaMar
Were you close with Sierra and her parents? Did Sierra ever express problems at home that indicated she would perhaps attempt running away at one point? Many teenage girls go through this sort of rebellion.
Keith LaMar(KL):
I am closest with my uncle Steve (Sierra's dad), but I am also close with Marlene (I don't remember them ever not being together). I remember Danielle being born, and Sierra was the first baby whose diaper I ever changed. This especially comes in handy now that I have a 3-year-old son who is especially resistant to potty-training. I don't know of any specific incidents that would lead me to wonder whether Sierra might run away. However, Marlene called me some time in February, and asked for some help on how to handle a situation Sierra was involved in. Sierra was part of a cheer group (outside of school), and apparently they were treating her very badly. There was even suspicion that the girls had dropped Sierra intentionally during some routines at practice. Marlene wanted Sierra to quit the group. I don't know much more about this situation, but it seemed pretty contentious.
When was the last time you remember seeing Sierra before her alleged abduction?

KL
:
Steve, Marlene, Danielle, and Sierra came to Sacramento around a year ago maybe. They and my family (me, my wife, daughter, and 2 sons) ate lunch at Fresh Choice and went shopping at Arden Fair Mall. I was surprised to see Sierra had grown up so much since the last time I had seen her. We all spent a few days over Christmas 2008 up at a rental house in Lake Tahoe.
You've mentioned that you live somewhat near the region where Jessica Funk-Haslam was murdered. It's been mentioned in news commentaries before that police should investigate a connection between the 13-year old girl's murder and Sierra's disappearance. Do you agree with this assumption? Do you believe that a small connection could be made between the two cases?

KL
:
I live very, very close to the park where Jessica Funk-Haslam's body was found. Morgan Hill and Sacramento are between 2 1/2 hours and 3 hours apart (by drive), so I personally don't believe there is any connection.
Do you think the FBI and investigators in Morgan Hill are doing a good job with this investigation? If not, where do you think they should improve to help in finding what happened?

KL
:
I don't know much about the FBI and investigation process. However, I trust it is being followed appropriately. I understand there were some leads resulting from the forensics testing on the phone and Juicy bag they found. It would be nice to know what at least some of those leads are. However, I understand the need for confidentiality during the investigation, and I have no interest in compromising that.
What do you think the public can do to keep awareness of Sierra's disappearance high? Do you have any message you'd like to share with everyone who is concerned for your cousin? Anything to say to the suspect in this crime, in case he were to read this? Anything else you'd like to add?

KL
:
The public has been amazing with its support since Day one. I know people have a lot on their plates, and we all very much appreciate the time and energy everyone has contributed and continues to contribute with the searches and other volunteer efforts. If I had one thing to tell the abductor, it would be... enough already. If you wanted to create a very high profile case, you got it. If you wanted to cause heartache and anxiety among friends and family, you got it. Give Sierra back to the people who care for her. Stop being a coward, and own up to your actions. I don't believe in any deity, but I do believe that karma can be very cruel. The longer you keep her from us, the more harsh your fate will be.
Hopefully someone out there who knows something about this tragic disappearance catches wind of Keith's words and takes heed. It's apparent that someone out there does in fact know what happened, whether it be by word of mouth or by being directly connected to the disappearance of Sierra LaMar. This has gone on long enough, and given the evidence and time that has passed, it's hard to believe that this 15-year old girl ran away and has managed to stay under the radar willingly. In fact, that's quite improbable. In agreement with Keith LaMar, it would be nice to know what leads resulted from the purse and other belongings found in the search for Sierra. Though maybe they have an idea in mind and do not want to alert any potential suspects. That is always a possibility in cases like these.
A special thanks goes out to Keith LaMar for patiently providing the answers to the above questions. Like the rest of those involved in this heartbreaking case he is taking everything in stride and staying strong for his missing loved one. That's something to be admired, and inspiring for those who want to help keep Sierra in the public view in hopes of finding her soon.
Photo Credit: America's Most Wanted